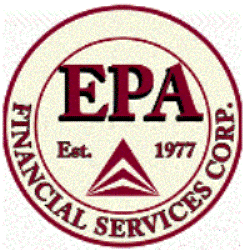 EPA Financial Services, Corp.
Your Family's Finances Are Our Family's Business 
---
EPA Financial Services Corp. 
proud home of the popular weekly radio talk show
" Managing Your Money "
Heard Every Saturday Morning from 9-10 a.m.
on WOBM-AM 1160 AM & 1310 AM
If you have a show idea or suggestion please feel free to email us at
If you have a question for one of our hosts or guests, feel free to call us
live on the air
between
9-10 a.m. on Saturday mornings
.
WOBM-AM's call in phone number for Saturday mornings between 9-10 am is 1-848-221-8092!
---
UPCOMING WORKSHOPS
 ~ Reservations are Required ~
Please call Heather at
  732-286-1000 to make a reservation.
Tuesday, July 22, 2014 @ 10 a.m.
Mid-Year Investment and Economic Update
Wednesday, August 20, 2014 @ 10 a.m.
Creative Strategies For Income
---
Special Links
Below are two very important links for anyone thinking of retiring or who is already retired.  
There is a wealth of information on both of these sites.  We encourage you to click on the links below to gain more information.
---
EPA FINANCIAL SERVICES, CORP.
Robert J. Richards Sr. and his wife, Jeanne Richards started EPA Financial Services, Corp. in 1977 as a way to help people like you and your family pursue your financial goals. Bob and Jeanne have worked tirelessly to build a family oriented practice, where our clients and our advisers are treated like family.  Whether it is holding a client's hand through the tough times, giving a shoulder to cry on, or sitting down for a cup a coffee to just talk, Bob and Jeanne treat everyone with the respect and compassion they deserve.  Bob is continuously educating himself on new techniques, new investment strategies, and on all the new products available to our clients.  Bob enjoys what he does, he enjoys his clients, and it shows.  While Jeanne volunteers endlessly for the Ocean County Juvenile Detention Center, Bob enjoys traveling the country playing competitive Softball. 
Upon graduating college, their daughter, Heather Richards-Barone ,  taught Elementary School.  After a few years, something called her back to the job she started while in high school.  Heather joined EPA Financial Services, Corp. full time  in 2003.  Since then she has worked hard doing double duty as the VP of Operations as well as an Financial Adviser to her many clients.  Heather knows how to multi-task like the best of them.  She's able to juggle day & night appointments, raising two sons, and taking care of her household, all awhile running our office.  Clients are comfortable with Heather and her ability to get things done.  She is a fierce advocate for all our clients at EPA Financial Services, Corp.
Joining EPA Financial Services, Corp. in 2013 is another Richards family member, Kellie Richards.  She has been in the financial services field for the last 13 years.  Kellie is incredibly eager and motivated to help our clients with their financial planning needs.
EPA Financial Services, Corp. is home to the popular radio talk show "Managing Your Money", heard every Saturday morning from 9-10 am on WOBM-AM 1160 & 1310.  During this hour, the Richards' family discusses a variety of financial topics, such as current economic conditions and events, and upcoming economic changes.
The Richards Family and EPA Financial Services, Corp. are known for treating their clients like family.  What they do as advisors directly effects their own family(s)  so they will always work in your best interest.     
Your Family's Finances Are Our Family's Business 
 Call today for a 1-Hour - NO Obligation Consultation @
1-732-286-1000
---
"Like" us on Facebook to keep up to date on all our events.
---