Our Investment Process
EPA Financial Services, Corp.
While we have all heard stories about someone who has invested in a small company and made tremendous gains as that company's stock value rose, however, in reality there is no easy way to invest for short term gains. The tried and true principles of investing, backed up by years of academic research are:
· Have a goal which is achievable, manageable, and specific
· Understand and decide which risks you should take, minimize, or avoid
· Diversify, Diversify, Diversify
· Do not try to time the markets but do react to trends in the markets
· Think Globally
· Review periodically and rebalance when needed
At EPA Financial Services, Corp. we begin with your goal in mind, then identify where you are now with your portfolio, then decide which assets fit your unique desired Asset Allocation. We then begin to Implement your Investment Strategy and constantly monitor and review your holdings.
The entire process resembles a cycle where one step leads to another and to another until the entire process has come full circle At this time the cycle will begin again and we will revisit your portfolio and circumstances from time to time in order to update economic and financial situations and to re-establish your goals on your way to your optimum portfolio.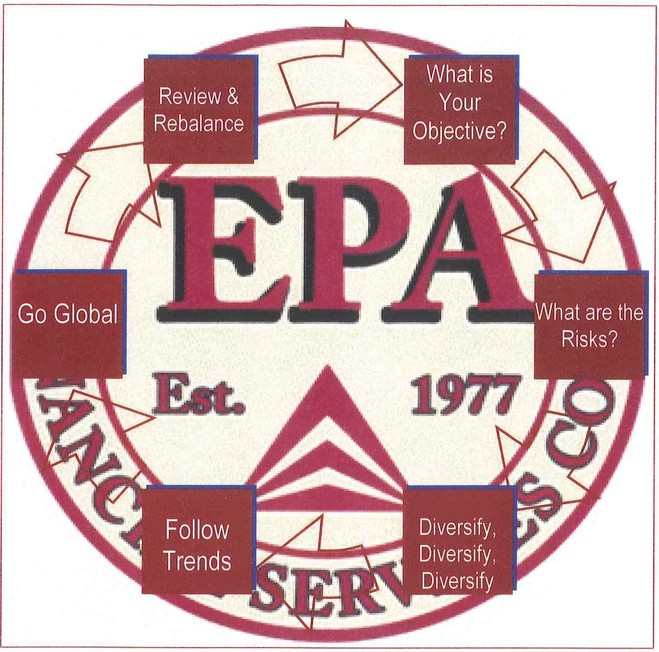 Your Portfolio
Your portfolio should be based not only on your Financial Goals but your Family and Lifestyle Goals, as well. It should reflect your unique situation with consideration for you:
Asset Allocation
Asset Allocation and Market Timing are polar opposites of each other. Asset allocation is based on the idea that an investor should not put all their eggs in one basket in hopes to protect themselves against losses in any one asset class. Asset allocation involves dividing an investment portfolio among different asset categories, such as stocks, bonds, and cash. The process of determining which mix of assets to hold in your portfolio is a very personal one. The asset allocation that works best for you at any given point in your life will depend largely on your time horizon and your ability to tolerate risk. (
www.sec.gov/investor.com
)
Diversification
At EPA Financial Services, Corp. we believe in diversification. The SEC defines for investors that diversification is the practice of spreading money among different investments to reduce risk is known as diversification. By picking the right group of investments, you may be able to limit your losses and reduce the fluctuations of investment returns without sacrificing too much potential gain. (
www.sec.gov/investor.com
)
We promote diversification amongst a variety of Asset classes, we promote diversification amongst objectives, and we promote diversifying by style. The very best money managers in the world, those who run large pensions plans or University Endowments do not attempt to time the markets. Rather, they diversify their assets to adjust to seemingly obvious trends in the economy, and markets. Based on Nobel Prize winning theories, Modern Portfolio Theory tends to maximize returns within an individual's Risk Tolerance.
It was Peter Lynch, the former manager of the Fidelity Magellan Mutual Fund, who guided that fund to arguably the greatest 20 year performance in history, once said "I can't ever remember once seeing the name of a market timer on Forbes Magazine's annual list of richest people in the world. If it were truly possible to predict corrections, you'd think somebody would have made billions by doing it." At or near the top of that list of richest people is Warren Buffet who diversifies his Berkshire Hathaway holdings.
*Neither asset allocation nor diversification can ensure a profit or protect against a loss.
Risks
Ø Market Risk - the risk an investor has due to fluctuation in market prices
Ø Income Risk - the risk that an investor's income may change due to changes in interest and dividend amounts within their portfolio
Ø Tax Risk - the change in an investor's tax situation or changes in tax rates which may lead to a higher tax liability
Ø Taxflation Risk - the risk that investor has when inflation rises and their tax situation changes therefore reducing purchasing power
Global
There is no doubt the world is getting smaller in many respects, economically, financially, politically, socially, and in many other areas. Consider the following pie charts which show the market capitalization (the value of corporate shares) of Domestic Stocks and International Stocks. In 1970 US Companies dominated with 66% of the World Stock Market values. By 2008, less than 40 years later, the US share in the market had dropped to 47% and it is projected to fall to 17% by 2050.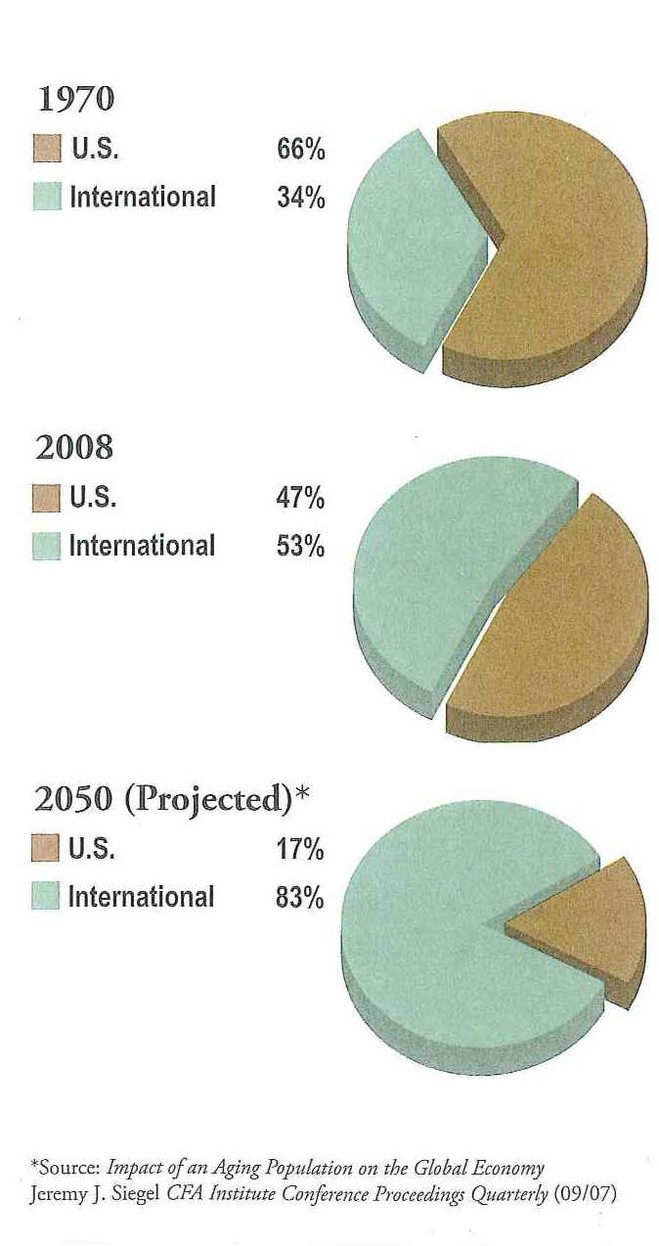 At EPA Financial Services, Corp. we feel the chances for successful investing are greatly enhanced by explaining opportunities in all markets, whether it is the U.S., International, Developed Countries, or Emerging Markets.
Monitor, Review, and Rebalance
The movement of the Capital Markets cannot be predicted with any consistency in the short term. Having realized this over 30 years ago we started to monitor our recommendations on a daily basis. We believe the best way to make our investment Recommendations is to recommend those funds we invest in ourselves (depending on multiple factors). As we are Independent and fee based our recommendations are not biased by outside influences and we have the confidence to admit when a fund is underperforming and replace it quickly.
For you to meet your goals you have to know exactly how your portfolio is performing in relation to your expectations, therefore, we review with you on a regular basis and allow you to check your accounts on a daily basis. We recommend two or three meetings each year but some prefer less so that is completely up to you.
When one asset class outperforms or underperforms, studies show performance and risk management can be enhanced by rebalancing the whole portfolio in relation to your current ideal Asset Allocation.
*Can be paid on a commission basis when acting in broker/dealer capacity.